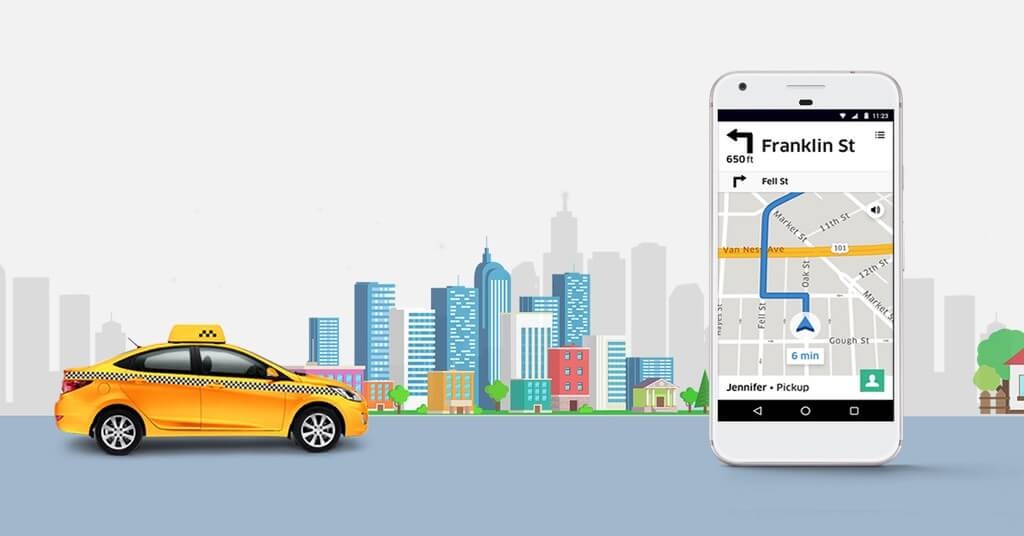 Taxi App Development: Must have Cost and Features
The emergence of mobile devices has increased smartphone users and now they became a part of their lives. Increased use of mobile phones also brought a variety of apps that totally made life easier. Now, there is a lot of tasks which you need to perform almost every day, you can do that in few simple clicks right sitting at your home. You can find the app of almost every kind of business. However, a successful app is the one that includes all the necessary features and simplicity. When it comes to a taxi-app, it must include all the needed features and should be able to offer an amazing experience to its users. Well, now you can offer that, read the article below, and you will come to know what all the significant features that can help you develop a successive taxi-booking business.
Core Features
There are a number of features that you must include in your app, however, first, we will look at the core features that must be integrated into your taxi booking app.
Fare Estimation
Your app must show users the fare estimation for the trip they want to book. You can include like pickup location, destination and once the user mentions these fields, they should be provided with the fair estimation on the app screen. It is certainly a very essential feature and helps users to get the idea of the amount they need to pay to travel from a particular location to others.
Map facility
Yes, you need to integrate the Google map in your app and show it to users once he or she provides a pickup location and destination to help the user with the direction.
Tracking facility
This feature is for admin and users of the app so that you can track the location of the taxi and manage the bookings and it helps users know the availability of cabs and the amount of time taken they will take to reach at the pickup location so that they can book accordingly. Also, once they get in the cab they can know where they are headed. For enhanced security, you can also integrate the feature of sharing cab routes to their dear ones so that users can feel entirely secure when they are riding. Apart from core features, there also other features you must include.
Simple User Interface
You need to be smart enough to integrate all the important information in limited space. Since the mobile screens are smaller in size, you must take care to make it easy to use. Make it simple and clutter-free. The key to building a powerful mobile app is to specify maximum details in limited space. This can be done by a skillful and talented developer of a taxi app development company.
Quick and easy payment gateways
You should provide a variety of modes of payment for users' convenience. They should have the option to pay in cash or online. Moreover, make it certain that you include in your app the elements in which users get clear details of the cost and time of the ride and more to make your app more competitive.
Option to review the services
You can also provide users an option to review their ride, service, and drivers' conduct. Getting the opportunity to share their experience with you enhances the reliability and also you come to know that what your weak points and you can work on them to ensure success.
Outstation Module
The outstation module is an important and much needed, you can include it in your app. It will help you offer your services out of the city as well. Users can book a taxi when they need to go from a city to another as well.
You can calculate your rates as per kilometer or at a flat rate. Users must be allowed to enjoy the ride own their way and convenience, you can allow them to have multiple stop-overs and make sure to offer a rich riding experience. This feature will certainly extend your business.
To give a great riding experience to your outstation passengers, you can allow them to book a taxi for another city in advance, economical one-way or round trip, different vehicle options, and trained drivers to choose from.
Day Packages
You can also include day packages feature in which users can hire a car for a specified time period and kilometers along with a personal driver. You can modify day packages to make it a unique and offer a great personalized riding experience.
Prime Membership
You can offer different membership plans for your customers, attracting them a various prime offers. Customers will choose the plans as per their needs. You both can be benefitted from this as users can enjoy the prime offers and you can get the increased number of customers.
Cab Pool
Nowadays, the carpooling option is pretty popular which allows riders to share ride with others and save their money. You must include a pool option in your app.
Final Thought
If you own a taxi business, you can expand and grow it by getting an effective app developed that can help people to book the cab from their home. You make sure your mobile app development company integrates the above-mentioned feature in your app to make it a success.
However, if you have any queries or want to consult you can always get in touch a leading company who deals in mobile app development India to answer your queries and turn your ideas into reality.
Average Cost for Developing a Taxi App Development
Basically, the cost of development of any app depends on its functionality, features, interface and many other features. There are some features also which affect the cost, like on which platform the app has been developed.
Diver App:-
The average time needed to develop a taxi app for the driver on the iOS platform is 136-232 hours(including back end development) & it will cost approximately $5,920 – $8,640.
But it costs slightly more to develop a taxi app for the Android platform as the time required is approximately 360-400 hours(including back end development) which will cost $7,200 – $8,000 approximately.
The development of the back-end of the driver app needs approximately 160-200 hours.
Passenger/Rider App:-
Since the passenger app has more features and functionalities, it is quite difficult and time-consuming to develop a taxi app for the rider/passenger side.
The approximate time required to develop a passenger-side taxi app for iOS is approximately 952-1096 hours(including back end development) which will cost approximately $19,040 – $21,920.
But there is not much difference between developing an iOS & Android passenger taxi app. For developing passenger app for the Android platform approximately 976 – 1080 hours(including back end development) and it will cost approximately $19,520 – $21,600.
The average back end development time required is 608-648 hours approximately.
Since the average cost of a developer differs according to country, the cost and time also differ in different countries.
Here is an approx estimate of developing a taxi app in different countries.
| | |
| --- | --- |
| Country | Average Cost |
| United Kingdom | $38,000 |
| Canada | $42,000 |
| Netherlands | $42,000 |
| Italy | $39,000 |
| France | $44,000 |
| Germany | $47,000 |
| Norway | $77,000 |
| Switzerland | $79,000 |