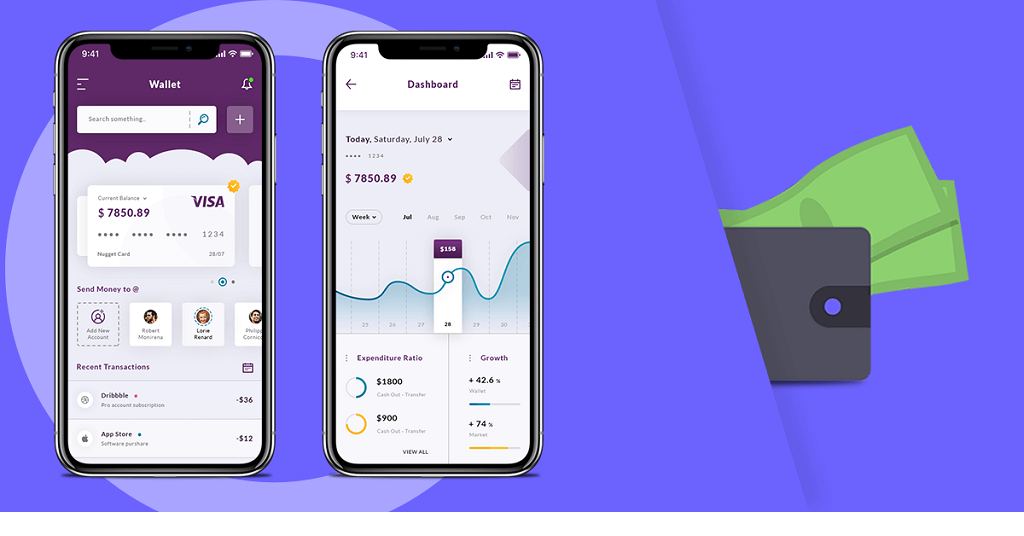 E-wallet Mobile App Development Cost Estimation With Advanced features
Currently, the world is owned by the concept of digital payments. People are going cashless and they are loving the digital payment apps. Everyone is using e-wallet mobile apps or online payment gateway models for the transaction. The reason is that these apps provide a secure, easy, and fast environment for the transaction.
Looking back a decade ago, when people used to wait in the queue at ATM's for deposition or withdrawal of money. People now use e-wallet mobile apps for easy transactions to avoid these types of conditions. Not only the users are adopting the technology of e-wallet but the business owners are also planning to get onto the surface with their own integrated gateway payment solutions.
So the concept of eWallet and other payment apps carried out by technologies like NFC, blockchain, QR codes, etc are going to own the market in upcoming years. So read the blog till the end if you want to know more about top eWallet solutions, along with features and average cost.
How About we Focus on POS Payments in Terms of mWallet Application Development.
There are various powerful technologies or solutions which are implemented on these eWallet applications. These solutions make the app more secure, easy, and reliable to users. The most common solutions used in eWallet Mobile Apps are:-
NFC
Near Field Communication is one of the most used technologies. You can easily share information or transfer funds in a convenient way. Nowadays it is used by most of the eWallets to provide hassle-free payments to users.
QR Codes
QR codes are used by people for making with people they regularly meet. Also, it is used to make payment with contacts which are not saved in the phone. For making payments, users just have to scan the QR code of the other person with whom they want to make a transaction. This is a smooth and simplified way of making transactions.
iBeacon & Bluetooth
It identifies or searches nearby friends for making transactions or payments. Bluetooth and iBeacon technologies help in transferring funds faster with more security. Hence this is used by most of the users.
Similarly, Bluetooth also identifies nearby devices and makes the transaction fast and secured. These emerging technologies are used by almost every eWallet solution.
Payment Apps
Payment Apps are the best eWallet solution suitable for business. These apps help the business dealer to partner with other dealers helping them to transfer cash easily and effectively. Users can transfer a huge amount of money with a safe and secure environment without the involvement of any third party.
Blockchains
eWallet integrated with blockchain is much more secure and immutable as compared to other solutions. This technology is mostly used by governmental organizations and financial institutions.
Architecture and must-have features
Unlike other mobile apps, eWallet Mobile Apps also have a basic architecture with user, merchant and admin panel. But the flexibility and the UI/UX are the basic and most important features for the app. There are some features that are common for both admin and user, but there are some features that are only available for either user or admin.
e-Wallet App Development Guide: Everything You Should Know
Essential Features of A Mobile Wallet App
User Panel
The user panel has most of the features of the app which makes the app flexible for the user. These features help the user to operate the app. Various features of the Admin Panel are:-
User Registration
Users can register or create an account with the help of their mobile number or they can directly login if they already have an account.
Linking Bank Account
Users can link their desired accounts to the app by providing the required information and details for making future transactions.
Add Money
After linking the bank account, users can add a specific amount of money directly from the bank into the app's wallet according to their needs.
Checking Balance
Users can check the total remaining balance in the wallet after making a successful transaction and also the whole transaction history.
Transferring Money
The desired amount of money can be transferred to other users by providing account details of the receiver's account, making the transaction more secure and fast.
Bill Payments & Recharge
Users can directly pay any bill through the app and in addition to this they can also do recharges of mobile, DTH, etc.
Booking Tickets
Now you can reserve your train, bus, and flight ticket easily with the help of eWallet Apps just by entering trip details like date, time, and destination. Also, users can avoid long waiting times in the queue by booking tickets of movies or other events directly by the app.
Bank to Bank Transfer
eWallet allows users to transfer or send money directly to the bank. Just by entering the account number details of the receiver, money can be directly transferred to the bank just with few taps.
Paying for Taxes or Insurance Fund
Now you can easily pay your insurance premium as well as income tax and sales tax with the help of these eWallet Apps.
Online Shopping for Grocery & Other Products
eWallet Apps are making the lives of humans more flexible and reliable by allowing them to shop for grocery and other products like electronic devices, apparel, household items, cars & bikes also.
Referrals and Promotions
Users can special earn gift cards, promotions and huge discounts on every transaction by referring the app to friends.
Order/Transaction History
This feature helps the user to keep a track or record of all the transactions made including bill payments, booking tickets or products purchased. It also shows the status of any current order placed by the user.
Exciting Offers
Since the competition is higher, you have to provide time to time discounts and offers if you want to attract more customers. Displaying these discounts under a separate category will attract more customers.
Rate and Feedback
It will allow users to give feedback and rate your app whether they are satisfied with your service or not. It will also help you to better your services based on the reviews.
Multi-Language Support
Users can choose their preferred language according to them. Providing various language support apart from English and Hindi will help the user to use the app more easily and flexibly.
Help and Support
Providing 24x7 support to the users will help them if they face any problem related to payment or any other service. Providing virtual bot service will be more effective for better interaction with users.
Ewallet App Vendor Panel
The broker or vendor is responsible for creating events, distributing products and keeping users informed with the latest offers and updates.
Dashboard
The vendor can track the profile of registered users and monitor their product choices to provide the best offers to users on the product.
QR Code
The vendor creates the QR code for various shops and users so that they can carry out the online transaction fast and easily.
Adding/Removing Products
The vendor can add a new product in the app or can delete any product from the app, which has bad reviews or feedback.
EMI Facility
Providing an EMI payment mode will help the users to afford the item they wish to buy.
Creating Events
Vendors can create time to time events and offers to attract users for paying online on orders by providing various discounts on online payments.
Offering Rewards
Offering rewards and gift cards to regular and active customers will make them excited for shopping more.
Festival/Seasonal Offers
Vendors can provide a huge discount and great deals on special occasions & festivals to customers, making it beneficial to utilize these deals.
Notification Alerts
Updating users for new offers, deals, discounts, new stock arrivals, and other services through push notification, email or SMS.
Ewallet App Admin Panel
Admin manages all the operations of the app from handling user accounts, offers, keeping stats and insights of the app and providing new offers to users.
Admin Dashboard
Admin can view and manage the information of all the connected users and merchants, also he can keep a track of all the insights and stats of the app through the dashboard.
Manage Users/Vendors
Admin can monitor all the activities and information of users and vendors associated with the app.
Real-Time Analytics
Admin can keep a regular update of associated users, total transactions made, average app usability and most viewed offers. It will help the user to plan a further strategy for the app.
Add/Block Users
Admin has the right to add or block any user according to his behavior and unauthorized payment processes. If the user found indulged in violating app policy than admin can block the account of the user.
Extending Security
The main work of admin is to keep the app updated with the latest security feature. Providing robust security without any compromise and reviewing security tools time to time is the main concern of admin. The confidential data of users must remain secure.
Ewallet Mobile App Additional Features
Apart from these basic features, there are some additional features that will make your app more reliable and flexible to the user.
QR Code Reader
Users can scan the QR code of the receiver to make the transaction fast and easy. This technology is very convenient and most used among the users.
Virtual Cards
Users can easily create a virtual card like their usual credit/debit card. These virtual cards allow users to carry out transactions easily without entering the details every time.
In-App Camera
This built-in feature will allow users to scan the QR code easily. Also, users can transfer the transaction receipt to another user. Due to this all transactions are confirmed, to validate the transaction request instantly.
Wearable Integration
By connecting the app to smart devices like smartwatches, users can easily monitor all the transactions from the watch.
Digital Receipts
Generating digital receipts of all the transactions and allowing users to share these receipts with an app or by email, SMS.
Bank's Terms & Conditions
Before developing an eWallet App you must have enough knowledge of banking rules and regulation of online transactions. Since you are developing an eWallet app, you are executing as a bank. You must have to read all the terms and conditions according to the rules of the government. You also have to provide some security documents to the government as per guidelines. The most important thing is that your app must not contain any illegal functionality.
Technology Stack Needed For Building Mobile Wallet App
| | |
| --- | --- |
| Technology | Functionality |
| Bandwidth, Twilio | For Push Notifications |
| Nexmo | For SMS, Voice and Phone Verification |
| Google Pay & PayPal | For accepting payments |
| GWT | For Powerful Programming |
| Datastax | For Data Management |
| Mandrill | For everything related to emails |
| ZBar bar code reader | For scanning the QR code |
| Debian | The Universal Operating System |
| Database | MongoDB, MySQL |
| AWS | Cloud Environment |
| Hadoop, Spark, Cisco, IBM | Real Time Analytics |
Average Cost of Developing a Wallet

App & Website
Since apps and websites are two different things, the cost of developing a website is much less than application development. The functionality of an app is exactly not the same as a website, features of the app are much richer as compared to the website.

eWallet App Development Cost For IOS and Android
The development of the mobile app basically depends on the total number of employees and time needed. The cost of employees per hour different in various companies. Companies in USA charge approx. $190 per hour, in Europe it is $130 per hour and the price in North America is approx. $150 per hour.
Our company has a team of experts developers, with a cost of approx. $50-$80 per hour we can develop an eWallet mobile app with all the mentioned features.
eWallet Website Development Cost
Since the features of a web are not as rich as the app, the development of an eWallet web requires less time and few employees. The cost is also very less as compared to the mobile app.
We can provide you a pre-built website like Paytm with all the basic and required feature within cost around $30,000 to $40,000.
Conclusion
The above mention feature can bring a lot of advantages to your business with abundant users. So it highly relies upon you to choose what mobile wallet you need and what you should attempt to develop it. You merely need to understand the perks of eWallet. Additionally, you need to deliberate that there are already many popular and established mobile wallets in the market, so it will be not easy to grab your market share. Your future wallet application ought to have robust features over your competitors.
Team4solution believes in fulfilling client requirements. Our company is a wallet mobile app development Houston and we have a team of skilled and talented developers & designer who have the capability for any kind of web development. So if you want to create your website or web application then share your business detail on contact us. contact@team4solution.com